James Earl Carter, Jr.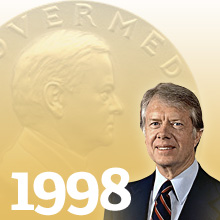 James Earl Carter, Jr., 1998 Hoover Medal Recipient
For promoting peace and goodwill among peoples and nations; resolving conflict, promoting democracy and protecting human rights; advancing health in the developing world; and attacking social problems in the United States.
Jimmy Carter, the thirty-ninth President of the United States, is known as the Great Peace Maker. Whether negotiating a cease-fire in shell-shocked Sarajevo or building houses for the homeless in Appalachia, President Carter can be found at the helm of a vast array of humanitarian efforts. Internationally honored and respected, he embodies the qualities that the American public most admires in its leaders: integrity, honesty, ethics, and an unswerving commitment to making the world a better place.
President Carter attended Georgia Southwestern College and the Georgia Institute of Technology and received a B.S. degree from the United States Naval Academy in 1946, followed by graduate work in nuclear physics at Union College. He served as a submariner and worked on the development of the nuclear submarine program during his naval career. In 1953, following the death of his father, he resigned his naval commission and returned to Plains, Georgia, to manage the family business with his wife Rosalynn. In 1962 he was elected to the Georgia Senate; was elected Governor of Georgia in 1970; and was elected President of the United States in 1976.
During his tenure in office, President Carter championed human rights throughout the world. Among the many noteworthy accomplishments of his administration were the Panama Canal treaties, the Camp David Accords, the peace treaty between Egypt and Israel, the SALT II treaty with the Soviet Union, establishment of diplomatic relations with the People's Republic of China, major environmental protection legislation, and a comprehensive energy program conducted by a new Department of Energy.
Although his career in politics lasted only eighteen years, there was no need for President Carter to reinvent himself, for his was always less a political agenda than a moral one. After leaving the White House, he and his wife Rosalynn founded The Carter Center in Atlanta, Georgia, in 1982. For President Carter, the non-partisan and nonprofit Center has been an institutional base for his continuing role in public life and a means of putting into action his deeply felt humanitarian concerns. The Center's accomplishments include monitoring democratic elections in Panama, Nicaragua, Haiti, Zambia, and other nations; leading the worldwide effort to eradicate Guinea worm disease which annually cripples more than 2 million Africans; coordinating a multi-agency effort that increased the worldwide immunization rate for children from 20 to 80 percent; reducing famine in Africa by helping farmers increase crop yield fourfold; mediating conflicts in Haiti, North Korea, Bosnia, and the Middle East; and spearheading a grassroots urban revitalization program.
President Carter is the author of thirteen books, and his hands-on involvement as a volunteer for Habitat for Humanity, a nonprofit organization that helps build homes for needy families in the United States and other countries, has helped bring the organization to national prominence and led thousands to volunteer their services. He also teaches Sunday school and is a deacon in the Maranatha Baptist Church of Plains.
One of President Carter's nominators said "President Carter is an ideal candidate for we as engineers to recognize for great, unselfish, non-technical services to humanity." Another nominator said "Indeed the annals of history will certainly reflect his landmark accomplishment of mediating a peaceful and unprecedented dialogue in the tension-ridden Middle East. But what further separates President Carter from other elected officials is that his legacy as peacemaker and mediator has surpassed the Presidency. Rather than retreating from public service, as have so many political figures before him, President Carter has continued to serve America and indeed the rest of the world." Another said "I can think of no other engineer who has made a greater contribution to peace and goodwill among people of the world than President Carter."
In recognition of a lifetime of humanitarian efforts, President Jimmy Carter joins the illustrious list of Hoover Medalists.