Van C. Mow Medal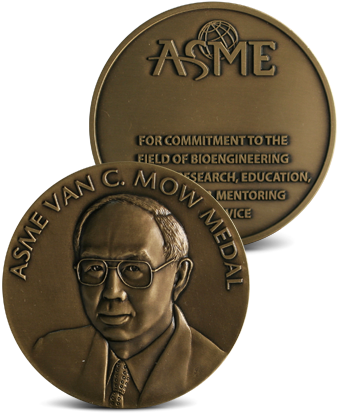 The Van C. Mow Medal is bestowed upon an individual who has demonstrated meritorious contributions to the field of bioengineering through research, education, professional development, leadership in the development of the profession, mentorship to young bioengineers, and with service to the bioengineering community.
The individual must have earned a Ph.D. or equivalent degree between ten and twenty years prior to June 1 of the year of the award.
The award was established by the Bioengineering Division in 2004.
| | |
| --- | --- |
| Form of Award: | A $1,000 honorarium, a bronze medal, a certificate, and a travel supplement not to exceed $750 |
| Limitation(s): | Candidates must have earned a Ph.D. or equivalent terminal degree in any field of engineering, physics, medicine or life sciences. Candidates must have received their degree between ten and twenty years prior to June 1 of the year in which they will receive the award. Candidates must be an active member of the Bioengineering Division. |
| Administrative Responsibility: | Bioengineering Division |
| Nomination Deadline: | September 1 |
| Nomination Sent To: | Award Committee Chair (send complete form, with reference letters, as a single PDF) |
| Committee Chair: | D.M. Elliott |
| Phone Number: | 302-831-1295 |
| E-mail: | delliott@udel.edu |
| Award By: | General Awards Committee (GAC) |
---
VAN C. MOW MEDAL RECIPIENTS
| | |
| --- | --- |
| 2005 | Kyriacos A. Athanasiou |
| 2006 | Robert L. Sah |
| 2007 | Lori A. Setton |
| 2008 | Scott L. Delp |
| 2009 | Michael S. Sacks |
| 2010 | Tony M. Keaveny |
| 2011 | David A. Vorp |
| 2012 | John C. Bischof |
| 2013 | Jeffrey A. Weiss |
| 2014 | Christopher R. Jacobs |
| 2015 | Dawn M. Elliott |
| 2016 | Beth A. Winkelstein |
| 2017 | Richard R. Neptune |
| 2018 | Jeffrey W. Holmes |
| 2019 | Tony Jun Huang |
| 2020 | Stavros Thomopoulos |
| 2021 | Rafael V. Davalos |
| 2022 | Robert L. Mauck |
Resources
---