Ralph Coats Roe Medal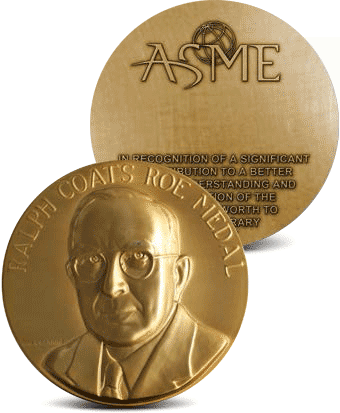 The Ralph Coats Roe Medal, established in 1972, recognizes an outstanding contribution toward a better public understanding and appreciation of the engineer's worth to contemporary society.
The successful candidate is expected to give an authoritative lecture in his/her field at a general session during the ASME Annual Meeting.
Ralph Coats Roe was a pioneer and innovator in the design and construction of highly efficient power plants and advanced desalting processes. He was an inspiration to his colleagues by his great achievements through self-education in highly sophisticated technologies.
The medal was endowed by Burns and Roe, Inc., the corporation founded by Ralph Coats Roe.
| | |
| --- | --- |
| Form of Award: | $12,000, gold medal, certificate and a travel allowance |
| Limitation(s): | None |
| Administrative Responsibility: | Committee on Honors (COH) |
| Nomination Deadline: | September 15 |
| Nomination Sent To: | Judith A. Bamberger |
| Phone Number: | 509-375-3898 |
| E-mail: | Judith.Bamberger@pnnl.gov |
| Awarded By: | Committee on Honors (COH) |
---
RALPH COATS ROE MEDAL RECIPIENTS
| | | | | | | | |
| --- | --- | --- | --- | --- | --- | --- | --- |
| 1974 | Emilio Q. Daddario | 1991 | Henry J. Petroski | 2007 | Roop L. Mahajan | 2022 | Aprille J. Ericsson |
| 1975 | Walter Sullivan | 1992 | Frank Kreith | 2008 | Shirley Ann Jackson | | |
| 1977 | Robert C. Seamans, Jr. | 1993 | Mary Lowe Good | 2009 | Bonnie J. Dunbar | | |
| 1978 | David Perlman | 1995 | John Noble Wilford | 2010 | Charles M. Vest | | |
| 1979 | William D. Carey | 1996 | Norman R. Augustine | 2011 | Ioannis N. Miaoulis | | |
| 1980 | Melvin Kranzberg | 1997 | Cong. George E. Brown, Jr. | 2012 | Bill Nye | | |
| 1981 | Carl Sagan | 1998 | Paul B. MacCready | 2013 | G. Wayne Clough | | |
| 1982 | Samuel C. Florman | 1999 | Edward Wenk, Jr. | 2014 | Adam Hart-Davis | | |
| 1983 | Tracy Kidder | 2000 | Barry I. Hyman | 2015 | Freeman A. Hrabowski, III | | |
| 1984 | Lee Iacocca | 2001 | N. Jan Davis | 2016 | James J. Duderstadt | | |
| 1985 | David Dooling, Jr. | 2002 | Dean Kamen | 2017 | Adrian Bejan | | |
| 1987 | T. Lindsay Baker | 2003 | Vernon J. Ehlers | 2018 | Gwynne Shotwell | | |
| 1988 | Cong. Donald L. Ritter | 2004 | William A. Wulf | 2019 | Charles F. Bolden Jr. | | |
| 1989 | John H. Lienhard | 2005 | Winfred M. Phillips | 2020 | William S. Hammack | | |
| 1990 | Jeremy Bernstein | 2006 | Bernard Amadei | 2021 | Burt Rutan | | |