Performance Test Codes Medal
Performance Test Codes Medal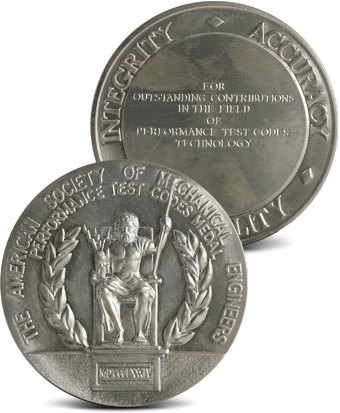 The Performance Test Codes Medal is awarded to an individual (or individuals in exceptional circumstances) who has made outstanding contributions to the development and promotion of ASME Performance Test Codes, including the Supplements on Instruments and Apparatus.
The medal was established to recognize the first voluntary codes and standards activity in the Society and in the United States. The codes are recognized throughout the world for their excellence, providing industry and the engineering community with the technology that promotes the philosophy of accurate and reliable performance evaluation.
The award was established in 1981 by contributions to the Performance Test Codes of the Society.
| | |
| --- | --- |
| Form of Award: | $1000, Vermeil Medal and Certificate |
| Limitation(s): | None |
| Administrative Responsibility: | Board on Standardization & Testing |
| Nomination Deadline: | January 1 |
| Nomination SentTo: | Performance Test Codes Medal Committee Chair |
| Committee Chair: | M.P. McHale |
| Phone Number: | 425-883-2058 |
| E-mail: | mike@mchale.org |
| Awarded By: | General Awards Committee (GAC) |
---
PERFORMANCE TEST CODES MEDAL RECIPIENTS
| | | | | | |
| --- | --- | --- | --- | --- | --- |
| 1984 | Kenneth C. Cotton | 2000 | John C. Westcott | 2018 | Michael P. McHale |
| 1984 | William G. McLean | 2001 | Ronald H. Dieck | 2019 | Steven A. Scavuzzo |
| 1985 | James W. Murdock | 2002 | John M. Burns | 2020 | William C. Wood |
| 1986 | John H. Fernandes | 2003 | Jeffrey R. Friedman | 2021 | Thomas C. Wheelock |
| 1987 | P.H. "Pete" Knowlton, Jr. | 2005 | Samuel J. Korellis | | |
| 1988 | Charles B. Scharp | 2006 | John W. Siegmund | | |
| 1989 | Frederick H. Light | 2008 | Joseph W. Mitlon | | |
| 1990 | Karl G. Grothues | 2009 | Steven P. Nuspl | | |
| 1991 | Robert Jorgensen | 2010 | Gordon J. Gerber | | |
| 1992 | Joseph S. Davis, Jr. | 2011 | W. Cary Campbell | | |
| 1993 | Philip M. Gerhart | 2012 | Paul G. Albert | | |
| 1995 | Silas L. Morse | 2013 | Patrick M. McHale | | |
| 1996 | Ronald L. Bannister | 2014 | W. Glenn Steele Jr. | | |
| 1997 | Norman R. Deming | 2015 | Thomas C. Heil | | |
| 1998 | David R. Keyser | 2016 | Matthew J. Dooley | | |
| 1999 | Roy P. Allen | 2017 | Thomas K. Kirkpatrick | | |
Resources
---