J.P. Den Hartog Award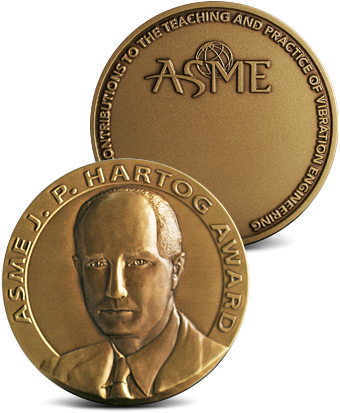 The ASME J.P. Den Hartog Award recognizes lifetime contributions to the teaching and practice of vibration engineering.
The award was established by the Design Engineering Division in 1987 and operated as a division award until 2010 when it was elevated to a Society award. The award shall be given in odd-numbered years.
| | |
| --- | --- |
| Form of Award: | $3000, Bronze Medal and Certificate |
| Limitation(s): | None |
| Administrative Responsibility: | Design Engineering Division Technical Committee on Vibration and Sound |
| Nomination Deadline Date: | July 31 (even years) |
| Nomination Sent To: | J.P. Den Hartog Award Committee Chair |
| Special Award Committee Chair: | M. Ruzzene |
| Phone Number: | 404-894-3078 |
| E-mail: | massimo.ruzzene@aerospace.gatech.edu |
| Awarded By: | Committee on Honors (COH) |
---
J.P. Den Hartog Award Recipients
| | |
| --- | --- |
| 2011 | Chieh-Su Hsu |
| 2013 | Peter Hagedorn |
| 2015 | David John Ewins |
| 2017 | Kon-Well Wang |
| 2019 | Singiresu S. Rao |
| 2021 | Balakumar Balachandran |
J.P. Den Hartog Award Recipients (Division Level)
| | |
| --- | --- |
| 1987 | J.P. Den Hartog |
| 1989 | W.T. Thomson |
| 1991 | S.H. Crandall |
| 1993 | R.E.D. Bishop |
| 1995 | T.K. Caughey |
| 1997 | A.H. Nayfeh |
| 1999 | L. Meirovitch |
| 2001 | Y.K. Lin |
| 2003 | V. Modi |
| 2005 | C.D. Mote, Jr. |
| 2007 | D.J. Inman |
| 2009 | E.H. Dowell |
Resources
---