#58 Pioneer Zephyr
---
1934
First US diesel-powered, stainless-steel streamlined train
---
In the late 1920s, the automobile cut railroad passenger service by more than half. The debut of the Pioneer Zephyr heralded a comeback in 1934, touring the country and being seen by some two million people in 222 cities.
The Zephyr was the first diesel-powered, stainless-steel streamlined train. Its luxurious accommodations and powerful engine could effectively compete for freight traffic with a burgeoning trucking industry. Many innovations were incorporated: Budd's shotweld process, a unit injector, and a welded steel crank case. The engine was design to travel at 110 miles per hour, performing four times that of steam locomotives.
This train, designed and built by the Budd Company, carries a Winton 8-201-A two-stroke-cycle diesel engine with eight cylinders in-line, developing 600 horsepower direct-connected to a 600-volt dc generator. The lightweight and compact unit was developed by General Motors Corporation following the acquisition of Electro-Motive Corporation and Winton Engine Company in 1930. The 201-type was a significant development in the replacement of the steam locomotive by diesel-electric power. By 1961, the United States had converted to diesel trains. The Pioneer Zephyr was retired May 26, 1960, after some 3.2 million miles.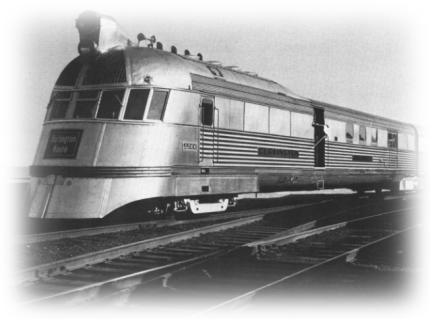 Landmark Location
Museum of Science & Industry
57th Street & Lake Shore Drive
Chicago, IL 60637
Visiting Info
(312) 684-1414 (press 7)
The Museum of Science & Industry
Ceremony Notes
November 1980