#26 Monongahela Incline
---
1870
first US passenger incline
---
As a practical conveyance during the horse-and-buggy era, the Monongahela Incline was one of seventeen built and operated in Pittsburgh in the last century. Of the seventeen, the Monongahela and the Duquesne are the only two remaining operating units. While the Mt. Washington Incline was known as a coal-carrying incline plane in 1854, the Monongahela Incline is probably the earliest passenger-carrying incline in the United States and has been in continuous successful service since its construction. Inclines contributed greatly to the development of metropolitan areas in hilly terrain such as Pittsburgh, but were superseded by the automobile and improved roads in the early part of the twentieth century.
Designed by John G. Endres, a Prussian engineer, and Sam Diescher, who went on to design the Duquesne Incline (NL 25), the Monongahela opened May 28, 1870. It was steam powered to move two cars along a wooden plane on a 71 1/2 percent grade. Though the wooden plane was replaced with iron in 1882, followed by the addition of a parallel plane the next year, it has continued with few interruptions for more than one hundred years. It travels on two parallel tracks, overcoming the need to pass a switch track at the midpoint like the single-track incline.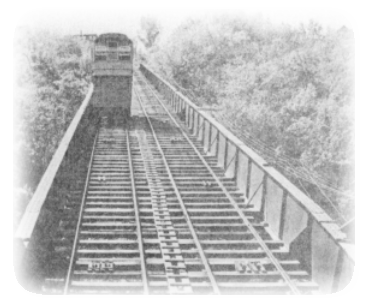 Landmark Location
near Station Square Mall
West Carson Street
Pittsburgh, PA
Own​er, if different than above
Port Auth. of Allegheny County
Visiting Info
regular hours, Mon-Sat 5:30am-12:45am, Sunday and holidays 7am-12:45am
Ceremony Notes
May 1977
Comments from Visitors/Members
1992 Survey by Michael P. Hayes: Plaque not found. Stations have been renovated.