#132 Chicago Burlington & Quincy Rail...
#132 Chicago Burlington & Quincy Railroad Roundhouse
---
1858
Innovative railroad yard machine shop for first railroad linking Chicago and the Mississippi River
---
The Chicago, Burlington, & Quincy Railroad was the first railroad to link Chicago and the Mississippi River, in the 1850s. This forty-stall roundhouse, large even for its time, became a major center for railroad activity for the CB&Q. It served as a repair and construction facility from which more locomotives and cars than any other CB&Q installation were built. Steam engines, passenger cars, freight cars, precision parts, tools, and machines were designed and built, beginning about 1858. At least 250 locomotives, incorporating innovations from numerous patented inventions, were built in Aurora between 1871 and 1910 -- a period in which track mileage increased five-fold and railroads were the only cross-country transportation.
CB&Q's first Mogul (2-6-0) locomotives were designed and built in 1888. Some of George Pullman's passenger cars were also built, including the hotel car The City of New York (1866) and the first American diner car The Delmonico (1868). Charles Jauriet designed several improvements, including a special firebox that led to rapid conversion from wood to coal on the CB&Q ca. 1866. Edwin Kerr and James Platt introduced the Kerr coal chute (1868), which also encouraged the introduction of coal-fired locomotives.
The CB&Q roundhouse is the oldest roundhouse still standing in North America. Though the turntable was removed in 1925 and little about it is known, the roundhouse continued to function as shop space until about 1974. Demolition of the site had begun in 1977 when it was added to the National Register of Historic Places. It was restored in 1986 as a transportation center for rail and bus commuters. Designated by the Fox Valley Section.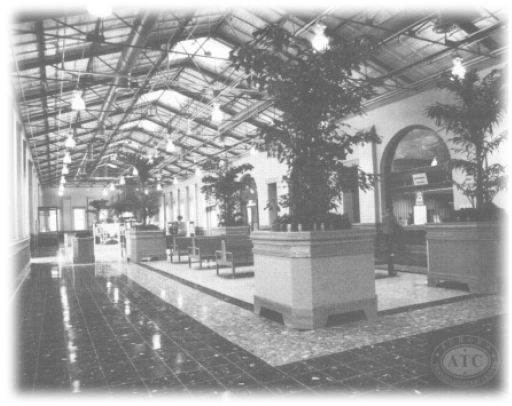 Landmark Location
CB&Q Aurora Shops
North Broadway & Spring Street
Aurora, IL
Ceremony Notes
May 1988