Issue 29 - Fall 2017
Nov 3, 2017
Standards & Certification Update
Fall 2017 EDITION
A quarterly newsletter to keep you informed about ASME Standards & Certification activities
To subscribe or unsubscribe, email S&CNewsletter@asme.org. Have feedback? Please email your thoughts to S&CNewsletter@asme.org
What's New
ASME Launches New Non-Destructive Examination and Quality Control Inspection Personnel Certification Program
The ASME Non-Destructive Examination and Quality Control Inspection (ANDE) Personnel Certification Program has been launched by the ASME Personnel Certification, LLC. The ANDE Program certifies personnel proficiency in knowledge, skills, and performance for non-destructive examination (NDE) personnel. Initially, ANDE will focus solely on the nuclear industry, through the ANDE Provisional Level III certification, but will expand to include non-nuclear NDE internationally. The ANDE Program recognizes an individual's ability to perform NDE in accordance with the ASME ANDE-1-2015, ASME Nondestructive Examination and Quality Control Central Qualification and Certification Program standard.
For more information on the ANDE Certification Program, contact certification@asme.org.
Changes Being Proposed to the ASME Boiler and Pressure Vessel Code Section VIII Scopes
The Boiler and Pressure Vessel Code (BPVC) Standards Committee VIII Pressure Vessels is proposing to modify the scope rules of BPVC Section VIII Divisions 1 and 2. This action will remove several current exclusions, more clearly define vessels that were considered when developing the rules of BPVC Section VIII, and provide guidance for mandatory application of the ASME BPVC Section VIII Certification Marks. The proposed changes are intended to be incorporated into the 2019 edition of BPVC Section VIII Division 1 and 2.
A public review and comment period will be setup for the month of December 2017.
For more information and requests of the proposed rule changes, contact Steven Rossi (+1.212.591.7522)
A17 Elevator and Escalator Standards Committee Incorporates the Use of Cases
The ASME A17 Elevator and Escalator Standards Committee recently incorporated the use of Cases, also known as Code Cases, into their procedures. Cases are used when there is an identified urgent need to have a revision or alternative requirement available to the public. When used, Cases prescribe requirements in the same sense as the text of the standard, however not all jurisdictions, owners, or contracts may automatically accept Cases. The most common application of Cases are:
To permit early implementation of a revision based on an urgent need
To provide alternative rules when justified
To gain experience with alternative or potential additional rules prior to incorporation directly into the standard
Providing rules not covered by existing rules
To permit the use of a new material for construction
​To clarify the intent of specific requirements
To familiarize the elevator and escalator community with this process, a presentation was given at the
National Association of Elevator Safety Authorities
(NAESA) September 2017 Wisconsin Symposium. Topics covered in the presentation included an explanation of Cases, as well as interpretations and technical revisions. It was noted that the addition of Cases would aid in the dissemination of information on items that may be of urgent need to the elevator and escalator community in a more timely fashion.
For more information, contact Geraldine Burdeshaw (+1.212.591.8523).
William Berger Recognized for Significant Contributions in Standards Development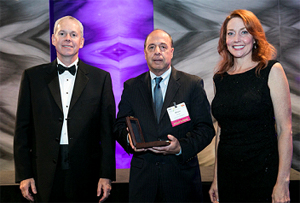 2017 ANSI Finegan Standards Medal recipient William Berger (cen.) poses with the Chairman of the ANSI Board of Directors Kevan Lawlor (l.) and ASME Managing Director of Standards Development Claire Ramspeck (r.)
William Berger, Managing Director of Standards at ASME, was announced as the recipient of American National Standards Institute (ANSI) Finegan Standards Medal, for his extraordinary leadership in the development and application of voluntary standards. Mr. Berger has contributed to numerous ANSI committees over the past 17 years and his contributions were noted through the nomination submitted by Claire Ramspeck, Managing Director of Standards Development at ASME.
Renamed in 1985, this award commemorates Richard J Finegan, who for more than a decade provided leadership and strong support to ANSI and the voluntary standards system. This award is presented to individuals who demonstrate the same caliber of exceptional leadership.
Each year ANSI issues numerous Leadership and Service Awards to recognize the significant contributions of individuals to national and international standardization activities, as well as an ongoing commitment to their industry, nation, and the enhancement of the global voluntary consensus standards system. This year's award recipients were honored by ANSI during an October 18, 2017 ceremony held in conjunction with World Standards Week 2017 in Washington, DC.
back to the top

LEARNING AND DEVELOPMENT
Call for ASME course developers and instructors
If you are an expert in engineering or an experienced teacher in the field, we want to talk to you. We are currently seekingcourse developers and instructorsfor live classroom and eLearning courses, as well as instructors who can teach for us worldwide.
For more information, contact Jennifer Delda (+1.212.591.7108) or visit our website.
Interested in broadening your technical know-how? Download the latest ASME Training & Development course catalogue or the Autumn 2017 course calendar - or visit us on the web.
SPOTLIGHT ON - HONORS AND AWARDS
Learn How to Make the Most of Your Involvement with ASME Standards & Certification
Whether you are a "committee insider" or someone just learning the ropes, ASME has a number of resources to help you learn more about working with its standards and conformity assessment programs.
The Standards & Certification hubpage is a hub of information, including general information, news, events calendar, committee information and FAQs. The Standards & Certification Training Resources page includes many useful links to help maximize your knowledge of the ASME standards development process. ASME's Interpretations Database provides an easy way to find the information on specific interpretations and how to submit inquiries to the committees. Finally, ASME standards development committees are always looking for new participants, several committees actively soliciting volunteers can be seen on the Call for Participants page.
If you are a new volunteer - or need a refresher - you can check out the various volunteer Training Modules. And, if you haven't yet become engaged, Getting Involved is only a click away.
Have something noteworthy to share? Submit it to S&CNewsletter@asme.org
NEW AND REVISED STANDARDS
| | |
| --- | --- |
| A112.4.4 | Plastic Push-Fit Drain, Waste, and Vent (DWV) Fittings J1921Q |
| Y14.100 | Engineering Drawing Practices N13817 |
| RTP-1 | Reinforced Thermoset Plastic Corrosion-Resistant Equipment J12717 |
| B30.13 | Storage/Retrieval (S/R) Machines and Associated Equipment J05217 |
| A18.1 | Safety Standard for Platform Lifts and Stairway Chairlifts A14517 |
| A112.18.6/CSA B125.6 | Flexible Water Connectors J1481Q |
| B30.16 | Overhead Underhung and Stationary Hoists J11617 |
| QME-1 | Qualification of Active Mechanical Equipment Used in Nuclear Facilities A13617 |
| B16.34 | Valves - Flanged, Threaded, and Welding End J01817 |
ASME STANDARDS TECHNOLOGY LLC PUBLICATIONS
See full listing of ASME Standards Technology LLC Publications

ASME STANDARDS OPEN FOR ANSI PUBLIC REVIEW
Public comments may be submitted on proposed new ASME Standards drafts and on proposals to revise, reaffirm, or withdraw approval of existing ASME Standards.
See full listing of ASME standards open for ANSI Public Review

NEW STANDARDS PROJECTS IN DEVELOPMENT
New Standards Projects are either first time editions or revisions of existing standards that are not on continuous maintenance.
See full listing of New Standards Projects

CALENDAR OF EVENTS
All meetings of ASME standards developing committees are free and open to the public.
PTC 19.1 Test Uncertainty Committee Nov 30 2017 - Dec 01 2017| Atlanta, Georgia, United States
BPV IV Heating Boilers Subgroups Dec 04 2017 - Dec 05 2017| Clearwater, Florida, United States
A17 Escalator & Moving Walk Committee Dec 06 2017| San Diego, California, United States
Turbine Water Damage Prevention (TWDP) Main Committee Dec 06 2017| Las Vegas, Nevada, United States
Standards Committee on Operation and Maintenance of Nuclear Power Plants (OM) Dec 11 2017 - Dec 15 2017| Clearwater Beach, Florida, United States
A17 Earthquake Safety Teleconference Dec 13 2017
PTC 10 Compressors and Exhausters Dec 14 2017 - Dec 15 2017| Houston, Texas, United States
A17 Elevator Code Week Jan 08 2018 - Jan 11 2018| Clearwater Beach, Florida, United States
Bioprocessing Equipment (BPE) Committee Jan 08 2018 - Jan 11 2018| San Juan, Puerto Rico, United States
Crane Committee Week - B30 Cranes, CNF Cranes for Nuclear Facilities, HST and BTH Committees Jan 21 2018 - Jan 26 2018| Portland, Oregon, United States
B31.1 Section Committee Jan 22 2018 - Jan 24 2018| Scottsdale, Arizona, United States
Nonmetallic Pressure Piping Systems Standards (NPPS) NM.1 Committee Feb 21 2018 - Feb 22 2018| Clearwater Beach, Florida, United States